Pie in the window or scotch on the rocks. Crafting an origin story for 21st century domestic goddess outfitters. This ain't your grandma's apron, but yeah kinda, it is.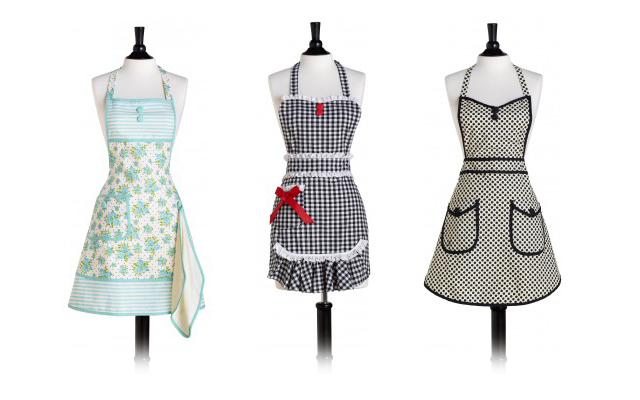 Helena Steele and her daughter Claire wanted a company story that conveyed the nuances: Of their personal history, their inspiration in founding Jessie Steele, and their view of the modern woman. Several hours of interviews produced inspiration for the story below.
This is a True Story.
It's about a time before you were born and a story about tomorrow, and it's one we all share.
Helena Steele and her daughter Claire created Jessie Steele for women like themselves, who are now as they have always been — rich in tradition and fearlessly feminine.
It all began with an apron. For years, Helena had collected vintage 20th century aprons, enchanted by a style and charm nearly forgotten by the modern world. Most cherished were patterns handed down from her mother Joan and her grandmother Jessie, from which she often made gifts for friends. Whenever Helena pulled on one of her aprons, said Claire, "you knew it was going to be an event."
The Originals
In 2001, at the turn of the new century, Helena saw the world trending back to family, community, and the comforts of home. One day she realized: It was the perfect time to re-introduce the apron as an accessory, a fashion, a positive statement.
She called Claire and pitched the idea. Claire was on a PR career track in LA, but felt something was missing. "I loved to cook and throw parties, but there was a stigma to putting on an apron for my generation," she said. "I was intrigued." With her enthusiastic collaboration, Jessie Steele was born.
Naming the company in honor of the women who had come before them, they had anything but humble goals: Turn a century of tradition into a wearable story anyone can share, whether you're putting pie in the window or scotch on the rocks.
For two years Claire, a former fit model, flew up from LA to the Bay Area for fitting sessions with Helena. They took a complex process and added an exacting vision: Create retro yet thoroughly modern aprons that flatter women of all sizes. "Everyone deserves to look good," said Helena. "I'd build one, and realize that you can't take a vintage apron and simply replicate it – you have to change the way it fits."
At their first show in 2003, "people thought we were nuts," said Helena, but the ones who got it loved it. They knew they were on to something: One day, they predicted, there would be aprons on the runway.
Growing Up is Fun To Do
Today, options for women have blossomed. The creative collaboration that is Jessie Steele mines the vaults of our collective memory to illustrate what it's like to choose the shape and look of your life. For us, the apron means business—whether you're running your own or caring for family and friends. It's a form of service, gladly given and gratefully received. We created Jessie Steele to share that experience with the rest of the world, to open it up to anyone who wants it.
It's been nearly a decade since we took a few aprons from a drawer and started a movement. Jessie Steele has gone global and is sold in over 30 countries. Our aprons have appeared on TV, in the movies, and on the runway (don't say we didn't warn you!). Every season we bring the happy home, delivered in patterns, colors and textiles that will have you smiling whether you live in Tulsa or Tokyo. No matter how big we get, we're determined to keep it personal: Helena still sews prototypes and hand-draws patterns at the same dining room table where our story began.
Under Claire's creative direction, in 2007 we began designing original Jessie Steele prints, a new in-house collection every season. These prints are now licensed internationally, and we are creating custom programs with major retailers.
We are riding that momentum into the future like a cool breeze on a summer afternoon. It's light and it's fun and it's distinctively Jessie Steele. We're now adding our mark to other things that touch the home and the heart. In the coming years we'll be layering our distinctive patterns and aesthetic onto housewares and apparel, while maintaining our personal vision in everything we make.
No matter what the future has in store, we remain dedicated to creating new stories, woven from the threads of a past fondly remembered and lovingly re-imagined, in prints and styles that evoke memories of what home always means.
Client: Jessie Steele
Project: Company Story
Agency: Elixir Design
Services: Copy Writing