Mixing Messages. Creating a distinctive voice for a brand known for climbing, yoga and
streetwear, with a touch of propaganda for peace, love, and mindfulness.
We're honored to contribute copy to prAna's marketing materials, helping the company evolve an editorial voice reflective of its culture and beliefs.
In prAna's seasonal catalogs, easter eggs of humor and thoughtfulness pop up where one might ordinarily expect something mundane.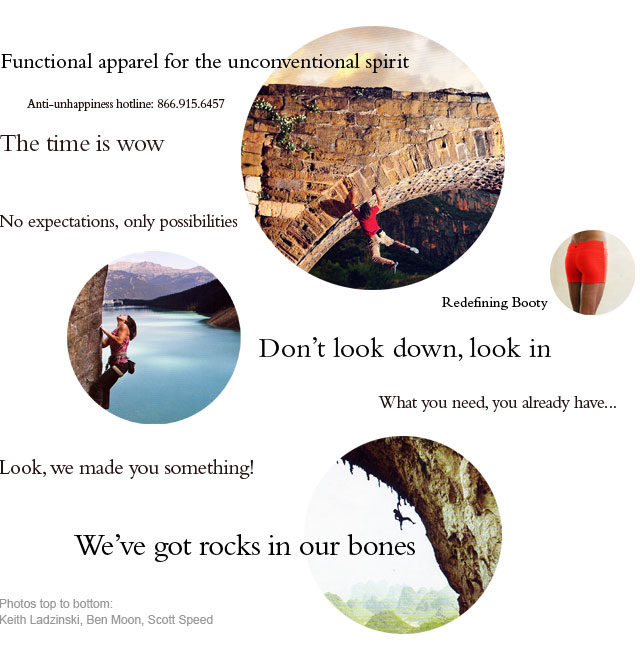 In addition to headlines and captions, longer pieces communicate the experience of being outdoors, laid alongside prAna's stunning photography. Breakout editorials describe the company's climbing origins and partnerships with organizations such as the Access Fund.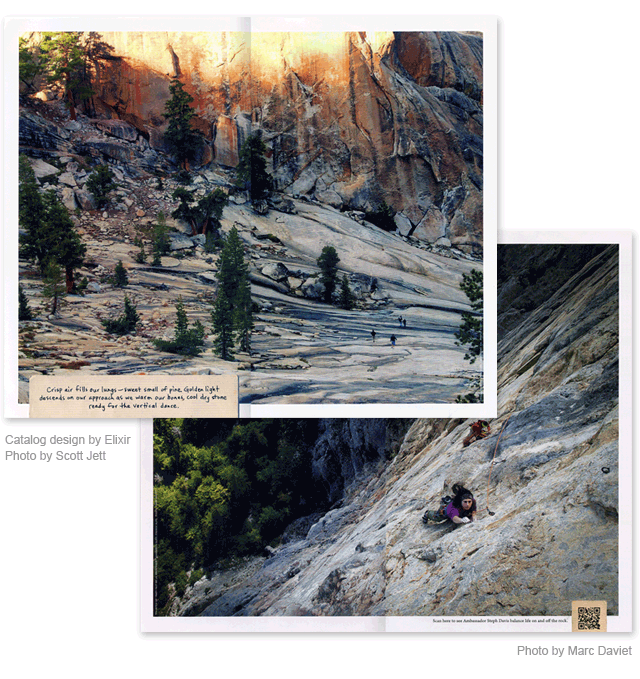 Fall 2011 Hiking/Climbing flavor breaks:
Crisp air fills our lungs—sweet smell of pine. Golden light descends on our approach as we warm our bones, cool dry stone ready for the vertical dance.
Fall condenses days, cold pressed, clear and concentrated. Your focused attention is suddenly available—mind, body, and conditions are in sync. Cool crisp temps, a slight breeze dries the fingertips as they feel for the next hold, breath smooth and steady. Muscles firing, shoe rubber sticks like glue, everyone's on their game.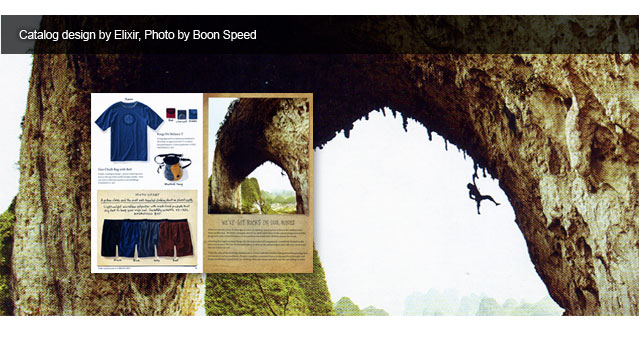 Summer 2010 Climbing Heritage Editorial:
We've Got Rocks In Our Bones
When we started prAna 18 years ago we were all climbers, learning how to live in the outdoors and dance on the rock. We wanted apparel that allowed freedom of movement and materials to withstand the rigors—clothes to live in. We apply these principles to everything we make.

Climbing taught us the importance of being present. You're in the flow because there's consequence. Even at prAna headquarters, we seek moments of inspiration by pausing in mindful silence when we ring a gong every afternoon. A clean perspective helps us approach every new situation with a beginner's mind, just like approaching an undiscovered route.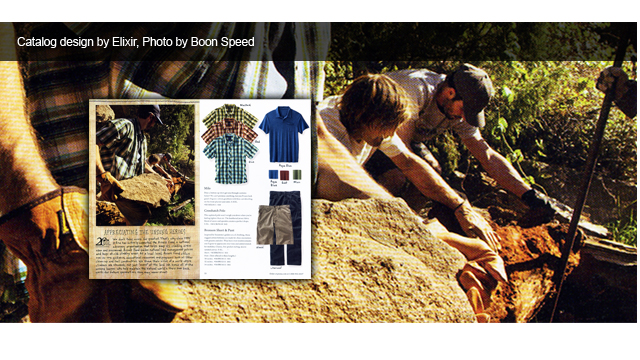 Spring 2011 Access Fund Editorial:
Partner Spotlight: Access Fund
We don't take access for granted. That's why since 1995 prAna has actively supported Access Fund, a national advocacy organization that helps keep U.S. climbing areas open and preserved. Access Fund guides national land management policies and buys at-risk climbing areas. At a local level, Access Fund offers one-on-one guidance, educational resources, and programs such as litter clean-up and trail construction. We share their vision of a world where climbers are stewards, not just "users" of the land. We honor all the unsung heroes who help maintain the natural world in their own back yards, for future generations they may never meet.
Client: prAna
Project: Editorial Copy
Services: Copy writing, brand positioning