Far Out, Close to Home. Reimagining the structure and voice of an iconic creative institution.
Headlands Center for the Arts is a multidisciplinary, international arts center dedicated to supporting artists; the creative process; and the development of new, innovative ideas and artwork.
In preparation for the Center's 30th anniversary, Headlands decided to go through a complete rebrand and relaunch of its web site. We were brought in as the content strategy and writing arm of a talented creative team, including Jennifer Jerde, founder of Elixir Design and web designer Elias Crouch of Future Invisible.
Brand Strategy
Our team began with hours of intense and animated offsites with key Headlands staff and board members. Together we addressed who Headlands was most trying to reach, and what ideas about Headlands we wanted to exist in their minds.
Site Map
Site navigation conveys as much of a sense of place as the content on the page. Our goal was to create a site map that encouraged visitors to explore, and ultimately to be both curious and informed enough to plan a trip. We deconstructed the Center's existing site map and revisited its order, sequence and emphasis.

Content Strategy
We also established a clear content hierarchy for page templates, featuring a big, bold headline, followed by a larger-type introductory paragraph, which a reader could easily digest in a few minutes before browsing on. Following paragraphs linked to other sub-areas of each section, keeping visitors circulating throughout the site.
The existing Headlands copy tended to be overly academic, a pitfall many artists organizations fall into. Collaborating closely with Headlands staff, we established guidelines and reworked or rewrote all content to speak with greater warmth, intimacy and immediacy. We used headlines and taglines throughout for voice and humor that would appeal to the casual visitor, the serious collector, and the dedicated artist interested in applying.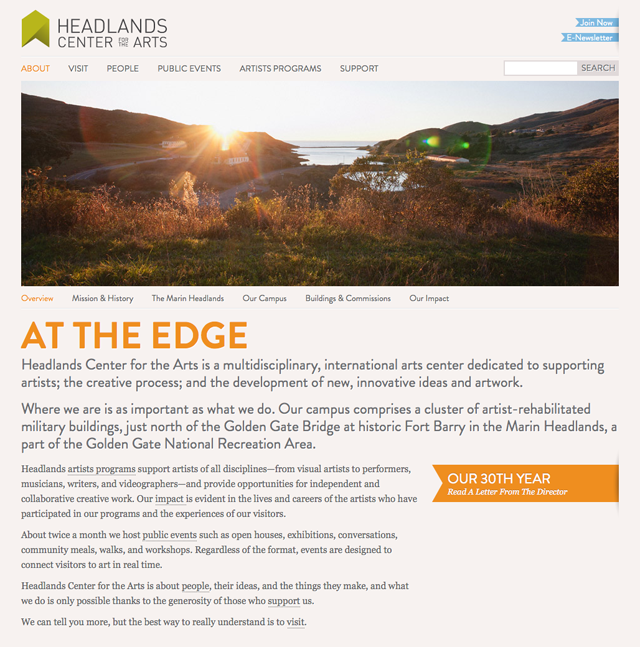 Content & Design Integration
The look and feel and voice of the site had to say: Come and see for yourself. Elias melded our evocative copy with brilliant use of rich photography, bright colors and bold typography His vision was masterfully made manifest by web development master Matt Larner of Studio Lull, enabling Headlands staff for the first time to administrate the site content on their own.
Artists Programs
A cornerstone of Headlands' existence is its prestigious Artists Programs. The integrity of the programs created a natural appeal, but this section of the site was plagued with poor organization, repetition, and an often unclear application process. We established a workable hierarchy, reorganized sections, and in collaboration with Elias, our brilliant web designer, a simple and understandable applications overview and process for every program they offer.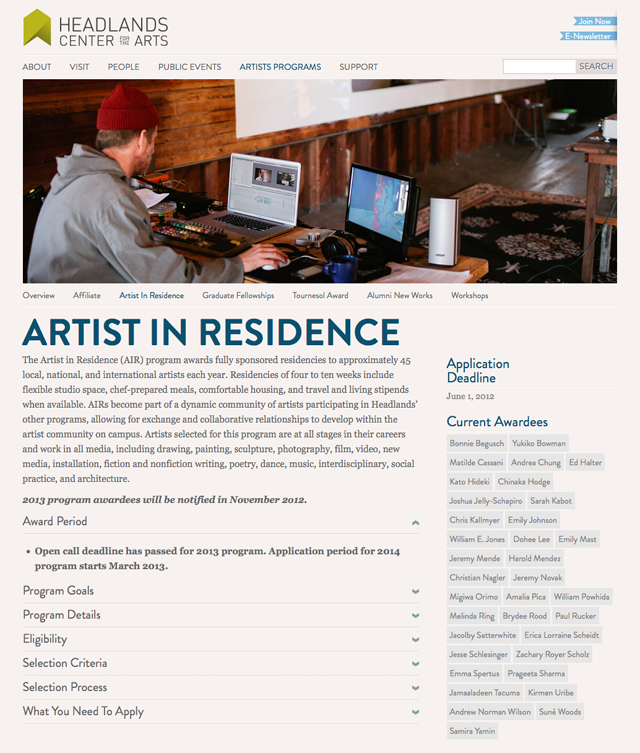 HEADLINE / TAG LINE CONCEPTS
SAMPLE BEFORE/AFTER CONCEPTS
Visiting Headlands: Previous Copy
The Marin Headlands is a stunning coastal wilderness, just minutes north of San Francisco, a series of hills, cliffs, coves, and beaches, virtually free of development, and rich in source material.
Visiting Headlands: New Concept
Sure is Quiet Around Here

Time slows down as you exit the tunnel. The speed of thought reaches a reasonable velocity, your options both limited and limitless. It's quiet out here, but
imagination is loud. The silence lets you tune into that creativity channel, lost in the buzz of your day-to-day.
Mess Hall: Previous Copy
Headlands offers the unique opportunity for the public to engage with Headlands artists and community over a homemade, family-friendly, delicious meal as part of an Artist Program.
Mess Hall: New Concept
Slow Food Meets Fine Art
Organic meals are served family style. You are encouraged to just stand up and get the butter yourself. Along the way you might find something new and tasty that wasn't on your end. Say hello to the guy who passes the quinoa: He might be your next mentor, best friend, new client or great inspiration.
People who take the time to get out here for a dinner are all people you're probably going to like. The tunnel to the Headlands is a curiosity filter for the adventurous. These are your people, your invisible tribe, and the Headlands is your territory.
Project Space: Previous Copy
Project Space is a unique part of Headlands' Artist in Residence program, providing artists with a platform for developing new projects in an open to the public, 1800 square foot studio space in Headlands' main building. The program aims to provide audiences with access to artists and the creative experience, and to support artists making work that is socially engaged and solicits public interaction. During our residency season (March - November), the Project Space Studio is open to the public from Noon - 5PM, Tuesday - Friday and Sunday.
Project Space: New Concept
Project Space: Come and Watch The Paint Dry, 10-4 Weekdays
Art is what you bring to it, whether it's a raised eyebrow or Masters Degree in art history. We believe that art informs us about who we are. In the unique setting of Project Space, the creative process is laid open like an unmade bed -- see where we've been sleeping, what we've been dreaming about.
Ask everything you're not supposed to ask: What is it? Why is it here? My kid could do that! The answer is yes: When you were a kid you probably did. We just haven't stopped and you don't need to either. We hope these sights and sounds, relationships and discoveries will remind you that we are all creators deep down, creators, appreciators, collectors and memory makers.
Project: Rebranding and Site Relaunch
Client: Headlands Center for the Arts
Services: Brand strategy, content strategy, copywriting and editing
Creative Team: Alimat, Inc., Elixir Design, Future Invisible, Studio Lull
Website: headlands.org