Major Upgrade. An uncommon partnership of Realtors gets a brand overhaul to match the care they take with every listing they represent.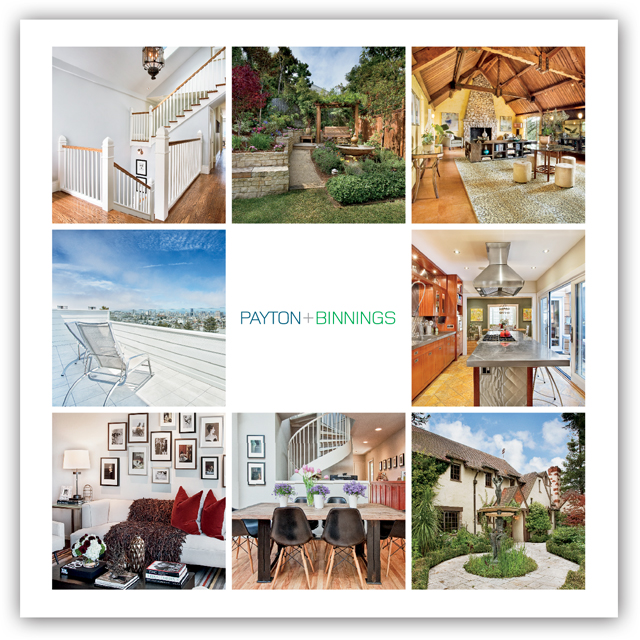 One of the top agent teams in San Francisco and Marin, Payton Stiewe, Arrian Binnings, and Sejal Binnings have mastered the art and science that is high-end real estate. As top performers with Christie's Real Estate, the trio had built a solid reputation with consistent increases in both sales and revenues. But they had yet to take stock of their brand as a team since they began their partnership.
In this business, forward-facing image is key. The team came to us ready for a complete brand relaunch. Together we outlined an ambitious vision that resulted in a relaunched web site, upgraded logo, and redesigned brochure, as well as a 72-page book and two Keynote presentations.
We began with hours of interviews, drawing out stories and uncovering what makes this trio unique. We then clarified their brand story, which influenced the content and structure of their materials across all platforms.
Logo Upgrade
We began with their logo, strengthening and modernizing the type. We changed the ampersand to a plus, emphasizing the fact that their function as a team amplifies the sum of their talents.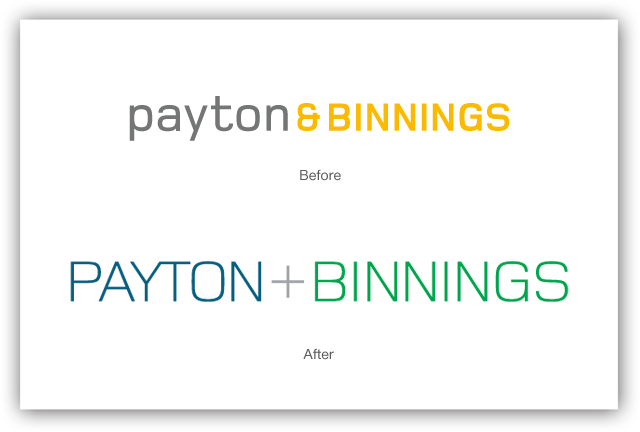 Web Site Redesign
Their site was cutting edge when first built, but—like a well-worn cottage on a prime plot of land—we determined together it was a teardown. We rebuilt the site from the ground up, taking our cues from the high-end architecture world: clean, modern, minimal yet substantive. Full-bleed galleries properly highlight the team's signature photography, while cleverly placed expanding content panels allow the visitor to focus on the imagery and access information as needed.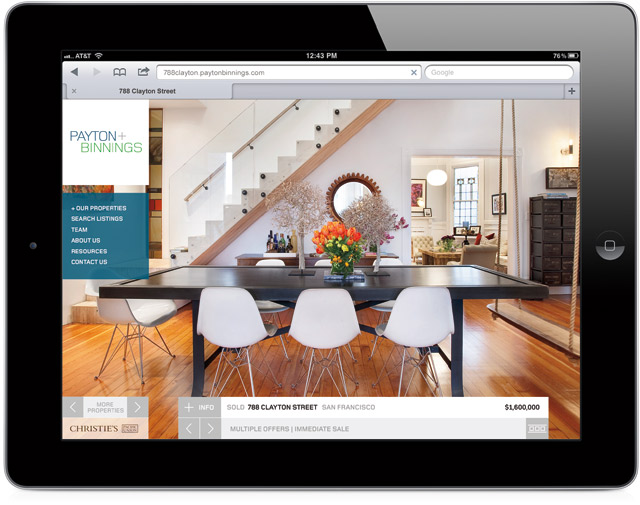 Coffee-Table Book
We realized that what this team knows—and what they have accomplished—could fill a book. So we did. This 72-page, oversized coffee-table style book builds on the brand story outlined online. We also created 10 before & after Success Studies, showcasing their transformative staging prowess. (The Success Stories are replicated on their site here.)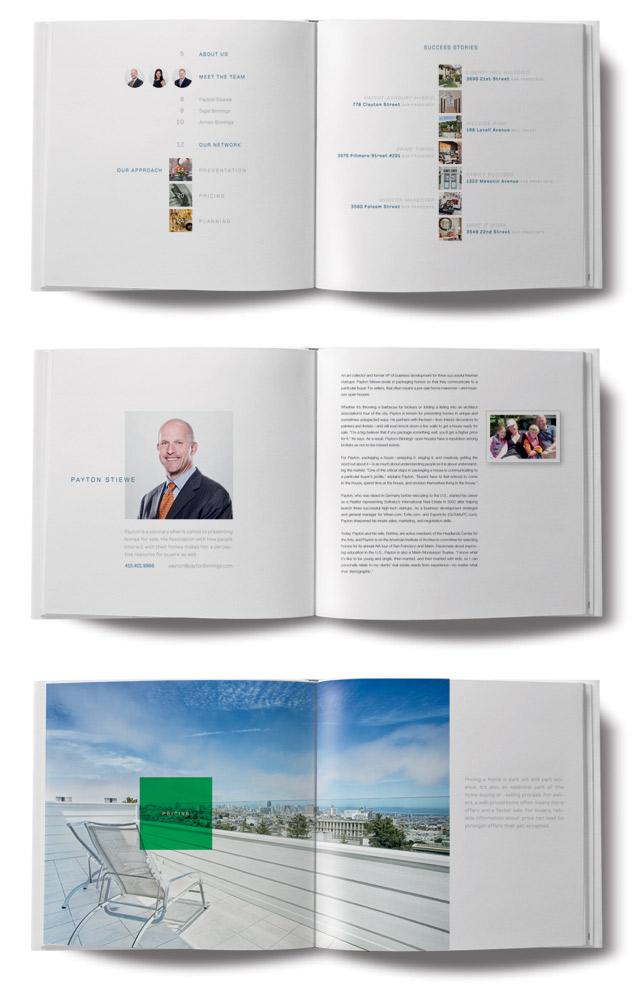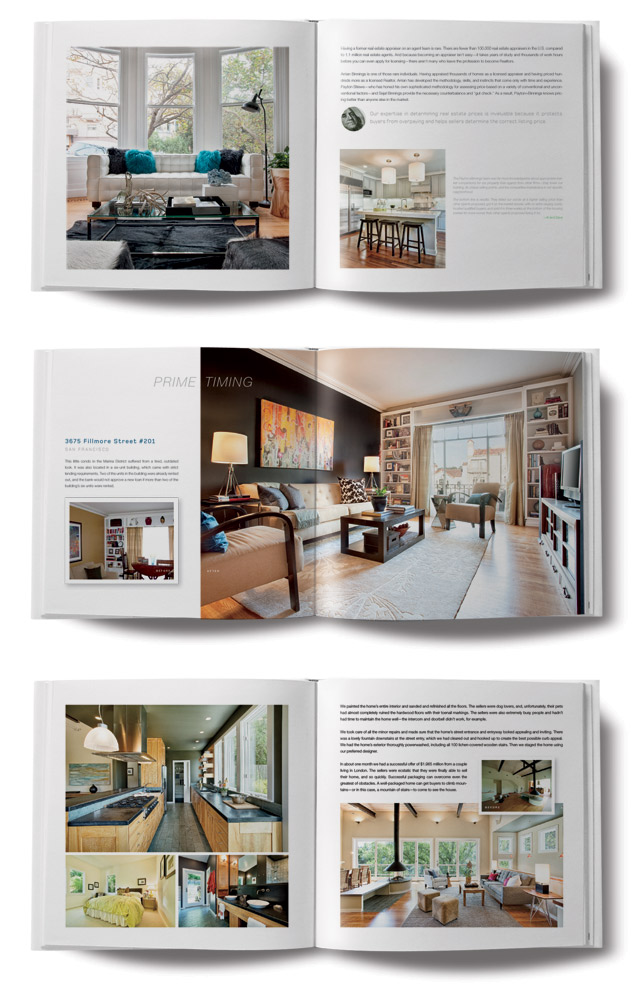 When the team meets with prospective sellers, they leave this book to browse at their leisure, picking it up when they return with a proposal. This brand differentiator is already having a significant impact.
Property Brochure Upgrade
Payton+Binning's brochure was a straightforward 4-pager with a floor-plan insert. Keeping their iconic square format, we rethought and restructured the content and layout, transforming each listing into a high-end, eight-page story, complete with full-bleed center spread featuring a key hero shot. The format was designed as an easy-to-use template that could be created on the fly and printed digitally within hours of receiving principal photography.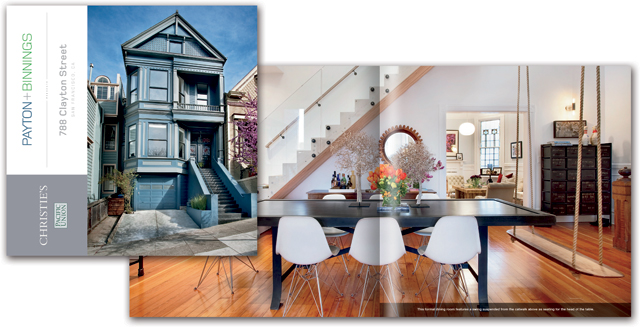 Keynote Sales Presentations
At listing presentations, the team now presents using a Keynote slide deck outlining their profiles and brand proposition. The design is simple and uncluttered with minimal text and imagery, giving clients a visual anchor and encouraging conversation.
The format needed to be both cutting edge and appropriate to the intimacy of an in-home presentation. The team now hands an iPad to the seller and sits opposite, driving the presentation with an iPhone via Keynote Remote.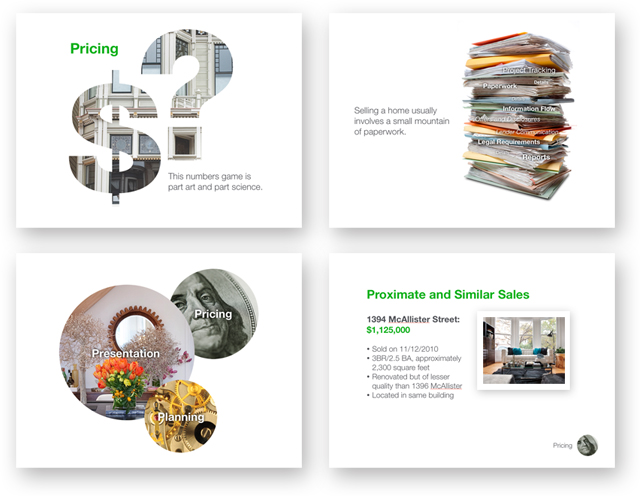 Everything we designed was built on the bones of what came before. In a way, what we created with their brand materials mirrors the way they stage a home for their ideal buyer.
The relaunch has been a phenomenal success. The team is closing bigger deals faster, and clients have a much better understanding of the process and value from the start.
Project: Brand Relaunch
Client: Payton+Binnings

Services: Brand strategy, identity, logo design, content strategy, copywriting and editing, web site design, keynote design, brochure design, book design
Website: paytonbinnings.com