Move along folks, nothing to see here. Crafting an identity for the blandest, most predictable, least opinionated writer we know. Totally boring.

Mark Morford was, in his words, "raised by nubile, long-eyelashed, callipygian wood nymphs and spoon fed dark chocolate, raw pomegranate seeds and 18-year-old Scotch until he could fly." He's now an award-winning columnist and culture critic for the San Francisco Chronicle and SFGate, as well as a Vinyasa yoga teacher in San Francisco.

Mark came to us for design of his imminent blog, Cult of Yes. This was a highly collaborative, dynamic process, wherein we assessed hundreds of images and juxtapositions. The final result needed to play off the various meanings of cult (deities, symbols, paganism) as well as yes (positivism, spirituality, sex, bliss). We weren't satisfied until Mark said, "That's it."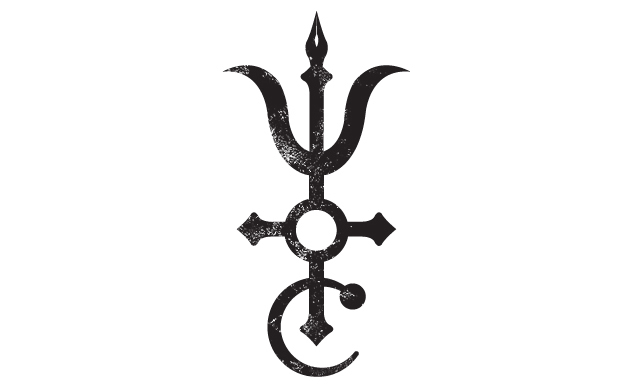 The logo, as Mark put it, needed to feel like "a twist of hot blasphemy, mixed with irreverent joy." The final result (above) is a cross between Krishna's trident, the writer's weapon, and the alchemical symbol for antimony or chaos, spiced with a little body-mod and gothy vibe. The result is a crest that wouldn't look too out of place on a hotel towel in the ritzy part of Hades.
The screenshot below shows how these elements may play on the final product.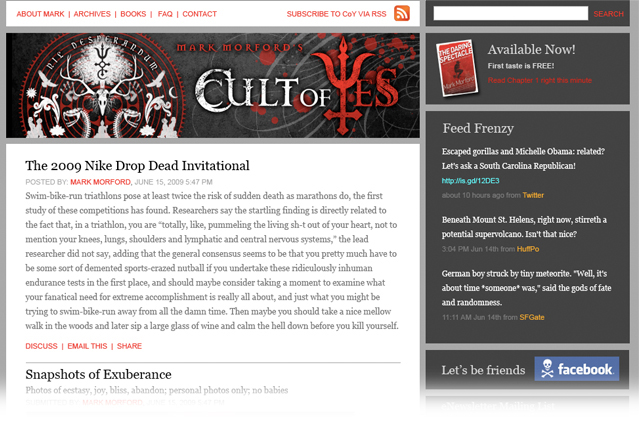 Client: Mark Morford

Project: Cult of Yes blog skin

Services: Brand identity, design, illustration